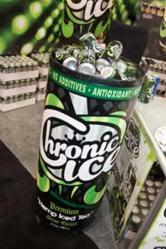 Chronic Ice
, the nation's first drink containing hemp, hopes make a splash using hip hop marketing tactics to reach the healthy beverage market. The refreshing health tea, made with organic sugar cane, a green and black tea blend, lemon essence, ascorbic acid and, of course, hemp seed extract, is in growing demand by health food and hemp enthusiasts. Little Wayne and Snoop Dogg have already tried it.
"People don't get high drinking our tea, but they can get healthy," said Tony Van Pelt, founder of Chronic Ice. "Although its name is a play on marijuana, Chronic Ice does not contain any cannabis or THC."
Too bad.
Currently, Chronic Ice can only be purchased at select stores in Southern California and Washington State.